Thermal spa resort
Loipersdorf
FROM ACTIV
TO RELAXED
AND BACK AGAIN
Thermal spa resort Loipersdorf
WATERPARADISE
The SONNREICH is directly linked to the Loipersdorf thermal spa resort – one of the largest oases of relaxation in Europe. Simply let yourself drift in the pleasurably warm thermal waters that have been bubbling out of the volcanic depths for over 40 years. The waters at this location in fact have the highest mineral content of all the thermal spas in eastern Styria.
Complete relaxation at the
THERMALSPA BATH
Wellness with everything for everyone in Styria.
Opening hours of the thermal spa and experience pool for SONNREICH guests:
07:00 am - 09:00 pm
The thermal spa bath will not only relax you; it will imbue you with a pure sense of joy. Switch back and forth from the inside to the outside pool, and enjoy the soothing sensations of the massage jets or the jacuzzi bath.
For even more peace and quiet, the sun sauna, the salt cave or the Alphasphere Cocoon are ideal havens of tranquillity. (Our younger guests can use the sun sauna from 12 years of age)
opening hours sun sauna:
09:00 am – 09:00 pm
(last sauna infusion: 08:45 pm)
opening hours every Friday:
09:00 am - 11:00 pm (Entry to 09:00 pm)
(last sauna infusion: 10:45 pm)
Opening hours every 1st Friday in month:
swimming by moon light till 01:00 am
Tingling water-bassed fun in the
EXPERIENCEPOOL
More action, please!
If all this relaxation has stored up energy that you need to release, the experience pool is the ideal outlet.
The extensive indoor and outdoor areas of the Loipersdorf thermal spa resort provide the opportunity for guests of any age to slide and splash their way through the day.
Monday to Thursday 11:00 am
to 07:00 pm.
Saturday, Sunday and holidays 09:30 am to 08:30 pm.
Every Friday 11:00 am to 10 pm.
Water park:
09:00 am to 08:00 pm

Baby Beach:
09:00 am to 07:30 pm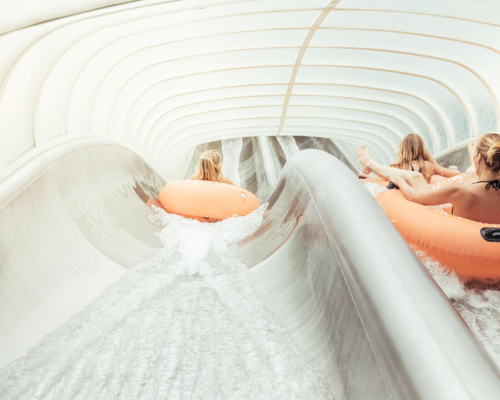 An oasis of tranquility
SCHAFFELBAD
Pssst!
Just a few steps away, and you'll hear ... nothing. Except the gentle murmur of the water. The Schaffelbad facility is directly adjacent to the hotel, and can be accessed via a cosily warm linking walkway.
The extensive site features 14 saunas and relaxation pools, numerous whirlpools and a streaming Kneipp bath provides a soothingly relaxing view of a lovingly created thermal spa landscape, complete with a pond and biotope, and is above all a haven of absolute peace and quiet. The Schaffelbad in the Loipersdorf thermal spa resort is a wellness oasis for guests aged 16 and above, where nude sunbathing is also possible.

Opening hours: 09:00 am till 09:00 pm
Sauna: 09:00 am toll 09:00 pm (last infusion 08:45 pm)
Every Friday till 11:00 pm (last infusion 10:30 pm)